Dental Team – Lubbock, TX
Get to Know Our Small But Mighty Dental Team
Our dental team may only be comprised of three people, but they're dedicated to providing the most outstanding and personalized care! Dr. Shively is proud to work alongside his passionate team who strives to make every patient feel valued and well-cared for when they enter our dental office. Below, you can read more about the friendly faces that you'll see around our dental office and what inspired them to pursue careers in the dental field.
Christina,
Office Manager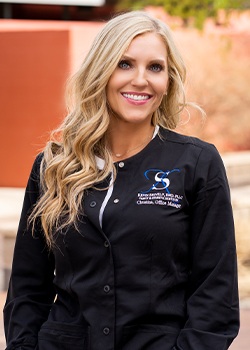 As our dedicated office manager, Christina loves being able to help patients through their dental care experience, whether by explaining their finances clearly and concisely or simply easing their minds while enhancing their smiles. She loves the variety that each day, new patient, and unique case brings! Originally from Hudson, NC, she is a proud member of the American Association of Dental Office Management.
Desiree,
Dental Assistant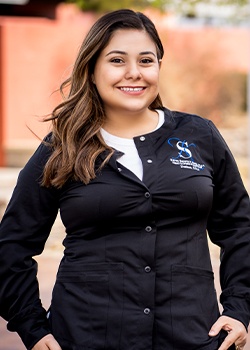 Desiree may be relatively new to our dental office, but she's been working in the dental field for a full decade now. Originally from Albuquerque, NM, she studied at PIMA Medical Institute. Today, what she enjoys most about her role is being part of giving someone back their smile!
Desiree and her fiancé Joseph have three children named Julian, Selah, and Evony. They moved to Lubbock in October of 2020 and already love it here! As for hobbies, she enjoys taking the family's boat out on the lake, camping, keeping up with fitness, and hanging out with loved ones. She also likes doing runs, including the "Tough Mudder," a 10 mile trek with obstacle courses and LOTS of mud, which she completed in 2017.
Regan,
Dental Hygienist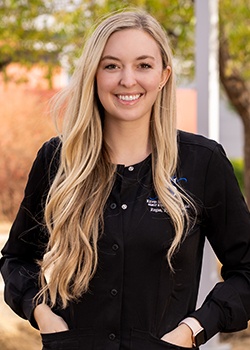 Regan is originally from Weatherford and attended the dental hygiene program at Texas A&M. Today, she loves being able to build relationships with our patients while also helping them feel more comfortable here at the dentist's office!
Away from work, Regan's family is her biggest support system. She spends her free time cooking (especially new recipes – Italian food is her favorite!), watching new shows with her husband, taking regular trips to Possum Kingdom Lake, hunting, and snowboarding in the winter.