Teeth Whitening – Lubbock, TX
Brighten Your Smile In-Office or At Home

Did you know that more than 75% of Americans surveyed wished their teeth were whiter? So, if you wish you could effectively lift stubborn stains and unpleasant dental discoloration, you're far from alone. While over-the-counter options deliver lackluster results at best, the same cannot be said about professional teeth whitening in Lubbock. In fact, Dr. Kevin Shively and our team can brighten your smile in-office or at home in record time! Keep reading to learn more or get in touch with us to schedule your initial consultation.
Why Choose Kevin Shively, DMD For Teeth Whitening?
Skilled Dentist Who Truly Cares
Effective In-Office and Take-Home Whitening Options
Flexible Financing Available
Who Is a Good Candidate for Teeth Whitening?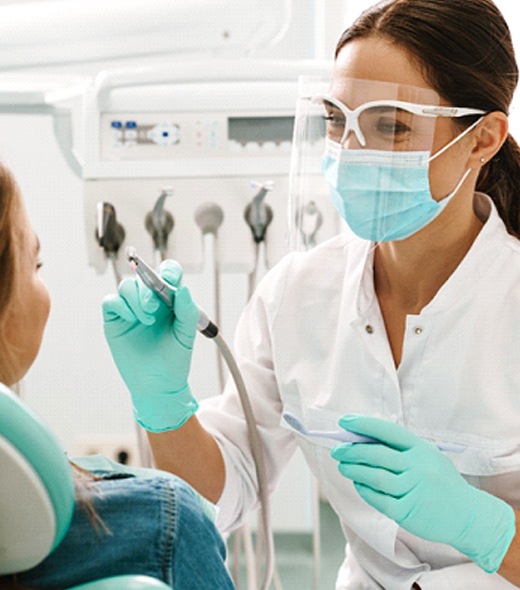 Whether you are struggling with minor stains only you notice or more pigmented discoloration, teeth whitening may be the cosmetic dentistry solution you've been looking for! To determine your candidacy, we will first find out the cause, considering both intrinsic and extrinsic factors. Next, we will conduct a thorough dental exam to ensure your teeth and gums are in good condition. If they are compromised by an untreated dental concern, like gum disease, don't worry. We can administer the appropriate restorative treatment beforehand to ensure you get the bright, white smile you deserve while preserving your oral health.
How Does Teeth Whitening Work?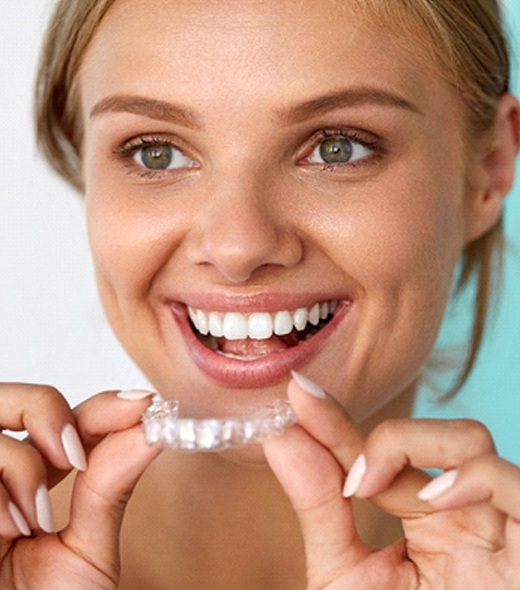 Our talented cosmetic dentist in Lubbock is proud to offer our patients two effective, smile-transforming treatment options:
In-Office Teeth Whitening
If you have an upcoming event, like a milestone celebration or wedding, rapidly approaching, then in-office teeth whitening is the way to go. Not only are the ingredients we use clinically tested, incredibly effective, and extremely safe, but they can deliver jaw-dropping results in as little as one hour. Plus, our customized treatment plans ensure you will get the bright, white smile you are looking for with minimal to no sensitivity.
Take-Home Teeth Whitening
If you would prefer to bust stubborn stains from the comfort of your own couch, that's an option too! Thanks to take-home teeth whitening, our team can provide you with a customized treatment that will deliver beautiful results in about two weeks' time. This option is far superior to over-the-counter alternatives, which rely on one-size-fits-all applicators and diluted whitening agents.
Tips for Maintaining Your Brighter Smile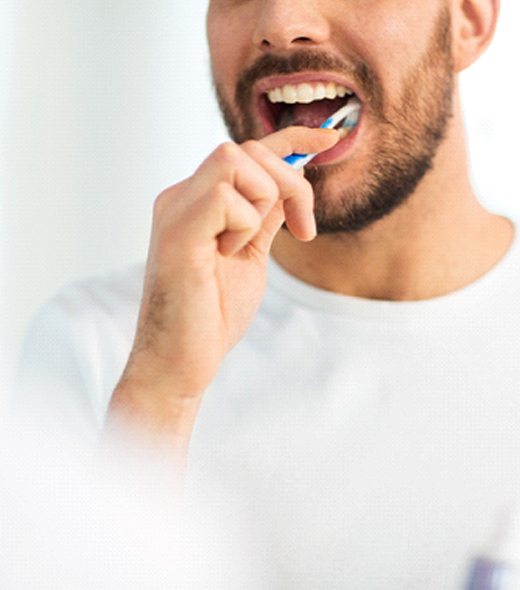 Once you see the results of your teeth whitening in Lubbock, you're going to want them to last for as long as possible! Fortunately, there are a few best practices you can implement to keep your new and improved smile in tip-top shape, such as:
Avoid foods and beverages that are high in stain-causing tannins (like coffee and berries).
Practice good oral hygiene at home (i.e., brush at least twice a day, floss daily, etc.).
Eat white dairy products (like yogurt) to keep your teeth strong and white.
Visit our team bi-yearly for a dental checkup and cleaning.
Come in for touch-ups as needed.
Interested in learning more about teeth whitening? Ready to schedule your appointment with our cosmetic dentist in Lubbock? We're here to help! Schedule your initial consultation with our team to get started.