October 6, 2021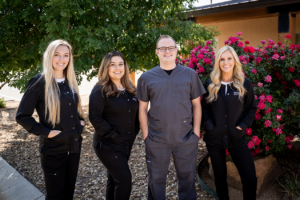 Hey everyone! Dr. Shively here. As most of you probably know, it's getting to be that time of year again. No, not Holiday season. Open Enrollment for insurance plans at your place of employment! For those unfamiliar with this term, this is a set period of time your employer allocates, along with the insurance company they are working with, to allow for their employees to opt in or out of benefits. If opting in, this usually locks you in until the next Open Enrollment period, which in most cases is the next year. This is usually the only time to opt out, as well, without being locked in for another year. I felt with this time rapidly approaching, it would be good to go over the good, the bad, and the ugly of dental insurance plans.
There are many different dental insurance companies out there, and even several different plans, or "tiers," within most companies. These plans can be very complex in nature and can be difficult to understand the differences. If signing up for insurance for the first time, or even just switching plans/coverages, it is important to remember most of these plans have clauses in them that could potentially be detrimental to you. For instance, several insurance plans have a "missing tooth" clause. In essence, this means that if you were missing a tooth before starting on their plan, and then wish to utilize their plan to help pay for the replacement tooth, they will not cover any of the expenses associated with the replacement. Another example would be a waiting period for major work. The definition of major is highly subjective and is determined by the insurance company. Suffice it to say it usually means any work that is considered expensive, such as dentures, implants, crowns, root canals, oral surgery, veneers or bridges. What this means for you is: you get the insurance with the hopes of getting needed work completed but must wait until the insurance waiting period is over to have the work completed. For most insurance companies, this is one year. So, in short, you pay their premiums for a year and do not get the benefit of utilizing the full scope of what you're paying for until one year, or possibly more, has elapsed.
I would also like to touch on "in network" and "out of network" providers. In short, in network providers agree to substantially reduced reimbursement rates for all procedures, in exchange for a pool of patients to choose from. From the patient's perspective, the insurance company gives you a list of dentists who "participate" in their plan, heavily encouraging you to utilize an in-network provider. While this sounds beneficial to a provider's practice, in reality it is quite the opposite. The insurance company will fight tooth and nail to deny any and all claims submitted or find reasons to not pay. Then the provider has done the work for no reimbursement. Or, if there is reimbursement, it's after substantial man hours have been used to make the insurance company pay (Many offices employ either a full-time employee or a third-party company dedicated just to insurance, knowing that it is an extremely time-consuming job; thereby incurring more costs). Additionally, reimbursement rates for dentists have gone DOWN year over year for the last decade. This means that the same procedures we did a decade ago we are getting paid LESS to perform, even as cost of living and cost of expenses are soaring at an astronomical rate. A perfect example of this was with COVID-19. Our prices for Personal Protective Equipment (PPE) to allow us to safely work on you soared once COVID caused us to shut down. A box of gloves that cost $4 for a box of 100 before COVID now costs over $40 for the same box. These costs have yet to go back down as COVID grinds on around the globe. The American Dental Association created a specialized dental code to bill to insurance to allow for reimbursement for the rising cost of PPE. We, as providers, did not want to overburden patients with these fees, as this is through no fault of yours. However, insurances will deny all claims for any added reimbursement for increased cost of PPE.
There is a growing trend around the U.S. for providers to "drop" insurance plans, meaning they become an out of network provider, rather than an in-network provider. What this means is we still accept your insurance, and we will even file the insurance claim as a courtesy for you. However, any fees that insurance does not cover will become the patient's responsibility to pay. To be able to treat you with the utmost care utilizing the best materials available, I have continued to be an out of network provider, just as Dr. Morgan was before myself.
With all this knowledge, you may be left thinking, well then why get dental insurance if it's so bad? To that I would recommend not going with a traditional dental insurance company. There truly is a better way!
In addition to our in-house payment options and Care Credit, we offer an in-house insurance plan through Kleer. In essence it breaks down like this: After gathering some preliminary data, you would fall into one of three categories. For a flat fee, paid once annually or divided up over 12 months, all your preventive services are covered! Cleanings, exams, and any necessary x-rays are covered with that fee. Additionally, in the event you have an emergency, such as a broken tooth or a crown popped off, that emergency visit is covered in the flat fee as well. But where the savings really come in is with any treatment that is needed. If any treatment is recommended, such as a crown, a root canal, etc., you receive 20% off our normal fee for that procedure. There's no gimmicks, no exclusions, no waiting periods, or missing tooth clauses. All procedures are covered, as well. Interested in cosmetic work? Wanting to whiten your smile? It's all covered! The one drawback to the plan is, it is only for our office. You cannot take it from our practice to another practice. But we guarantee you will not be disappointed with our office once you meet us! We go the extra mile to be receptive, warm, and gentle with our care.
In closing, when Open Enrollment comes around at your employer, if you're leaning toward your employer's dental insurance plan, give us a call and let us compare apples to apples for you to let you know which plan is better for you. We will be honest and upfront with you! If your employer's plan is better, we will recommend that for you! Also, for those of you unhappy with your current dental insurance coverage, or lack thereof, also send us any info you have on your plan so we can compare our plan to theirs. If our plan is more advantageous for you, we would encourage you to Opt Out during the Open Enrollment period to save you some money.
If you have any questions, would like to discuss anything written here, are interested in becoming a new patient at our practice, or want to compare and contrast coverage, give us a call today! (806) 698-8660, or cmartinez@mylubbockdentist.com.
Until next time guys, stay safe, stay healthy, and may God bless all of you!
Comments Off

on Dental Insurance, the Good, the Bad and the Ugly
No Comments
No comments yet.
RSS feed for comments on this post.
Sorry, the comment form is closed at this time.