November 10, 2021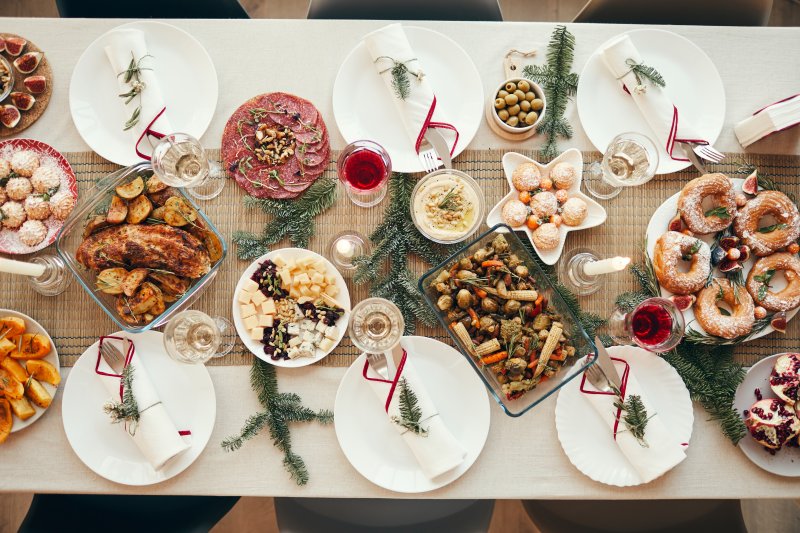 It's officially that magical time of the year everyone looks forward to – the holiday season! Many people are excited about all the gift-giving, quality time spent with loved ones, and (of course) countless opportunities to feast on seasonal meals and treats. Although your taste buds may be happy during this time of the year, your oral health can suffer if you're not careful. With that in mind, a dentist in Lubbock shares which popular holiday foods you should eat in moderation this season.
Stuffing
For some people, a Thanksgiving feast isn't complete without stuffing. The holiday favorite is bound to make an appearance every year on this special day! Although it's not high in sugar, it's still pretty harmful to your teeth. Stuffing is primarily composed of carbohydrates, making it an extremely starchy food. It promotes the accumulation and growth of bacteria that feed on the sugars that the starches are broken down into. Unfortunately, that process results in the secretion of acids that wear down the enamel on your teeth, leading to plaque buildup and an increased risk of cavities.
Candy Canes
Growing up, you were always told that sugar is bad for your teeth. Well, it's true, which is why it should come as no surprise that candy canes are not the most ideal choice for your oral health. The sweet treat is composed of sucrose (a common table sugar) and high fructose corn syrup (a modified starch). Each time you eat something sweet, cavity-causing bacteria feed on the particles and produce a harmful acid that attacks your enamel, leaving you vulnerable to a range of oral health problems. The good news is you don't have to forego this holiday treat completely! It's okay to enjoy them – just make sure it's in moderation.
Eggnog
Have you ever tried eggnog? If so, you know from experience that it's an acquired taste. However, because it's high in sugar and contains alcohol, it's not the greatest option for your teeth. You should try and opt for something sugar-free like gin and tonic instead to keep your smile safe. But like candy canes, indulging in eggnog occasionally won't destroy your oral health! It's crucial to simply be mindful of your consumption.
Dried Fruit
Fresh fruits are a delicious and nutritional option for your overall health. Dried fruit, on the other hand, can be quite harmful to your oral health. It can stick easily to the nooks and crannies in your mouth, providing nourishment for the cavity-causing bacteria in your mouth. To lower your risk of dental problems, it's best to opt for fresh fruit whenever possible.
Baked Goods
During the holidays, it may seem impossible to stay away from cookies, pies, and cakes, at all the events and parties. However, you should still try your best to consume them in moderation. By doing so, you can lower your risk of dental problems like cavities, decay, and gum disease.
Don't forget to prioritize your oral health this season. By watching your consumption of these popular holiday foods, you can keep your smile happy and healthy these coming months!
About the Author
Dr. Kevin Shively is passionate about building meaningful relationships with his patients and providing high-quality dental care. He completed his dental doctorate at the University of Louisville School of Dentistry and participated in an intense, one-year advanced externship following graduation. Today, one of the things Dr. Shively enjoys doing is educating his patients to help them make informed decisions about their oral health. For more holiday tips, visit his website or call (806) 698-8660.
Comments Off

on Watch Out! These Popular Holiday Foods Ruin Your Teeth
No Comments
No comments yet.
RSS feed for comments on this post.
Sorry, the comment form is closed at this time.