February 9, 2022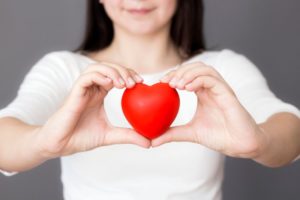 Valentine's Day might be what February is most known for, but did you know that it's also American Heart Month? This means now is the perfect time to learn how to take good care of your heart. While regular exercise is one way to avoid cardiovascular problems, maintaining great dental health is also essential, as gum disease has been linked to a higher risk of heart disease. With heart disease being the leading cause of death in the United States, and gum disease being the leading cause of tooth loss, it's important to know how you can minimize your risk of both. Keep reading as a dentist in Lubbock explains the connection between the two and provides some easy, helpful tips!
Gum Disease & Heart Health: An Unlikely Connection
In short, gum disease is a bacterial infection that develops when plaque builds up on the teeth and gums. At first, it causes bleeding gums, swelling, and tenderness. Left untreated, it can damage the tissues that support the teeth, resulting in tooth loss!
A growing body of research has demonstrated that people with gum disease are more likely to suffer from a heart attack, stroke, and other cardiovascular issues. The exact reason why has not yet been proven, but one prevailing theory is inflammation. Gum disease inflames the oral tissues, and it can set off a chain reaction of inflammation throughout the body. This may damage the blood vessels, increasing the chances of a blood clot blocking the blood flow to the heart.
Another possible reason is bacteria. When enough bacteria accumulate in the mouth, they could access the bloodstream and infect other areas of the body, including – you guessed it – the heart.
The definitive reason for the mouth-heart connection remains unknown, but one thing is for sure: avoiding both conditions is the smart thing to do.
How to Protect Your Smile (and Your Heart)
Luckily, preventing gum disease isn't that difficult for most people. Here are some simple steps you can take to decrease your risk:
Quit smoking – In terms of both your heart and your gums, smoking is dangerously unhealthy. If you currently smoke, it would be wise to talk to your primary care provider about how you can kick the habit for good.
Visit your dentist – Regular dental checkups and cleanings are crucial in preventing gum disease. If your dentist notices any warning signs of the condition, they can often treat it before it causes irreversible damage.
Review your oral hygiene routine – You should be brushing your teeth twice a day for two minutes at a time and flossing once a day. If you're not quite sure of the best ways to brush and floss, your dentist's team would be happy to coach you and even recommend specific oral hygiene products.
Keeping your heart healthy starts with maintaining a healthy smile. Doing everything you can to combat gum disease can really pay off!
About the Author
As a dentist in Lubbock, TX, Dr. Kevin Shively loves nothing more than helping his patients in various ways. Of course, one of his favorites is to ensure patients avoid gum disease before it starts. That's why he prioritizes preventive care, but he also offers scaling, root planing, and antibiotic therapy for patients who currently have gum disease. To learn more about keeping your smile and heart healthy, contact Dr. Shively and his team at 806-698-8660.
Comments Off

on How Preventing Gum Disease Can Keep Your Heart Healthy
No Comments
No comments yet.
RSS feed for comments on this post.
Sorry, the comment form is closed at this time.