August 10, 2022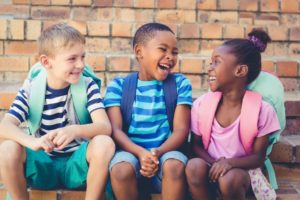 As summer draws to a close, parents all over the nation are helping their children get ready to head back into the classroom. You've gotten them everything they need: folders, a backpack, pencils, and more. To make sure you've set them up for academic success this semester, make sure they have a healthy smile! Not only are healthy teeth and gums important for your child's well-being, but studies show that they can also help improve school performance. Read on as your Lubbock children's dentist explains how great oral health can help your child succeed academically.
How Can Unhealthy Teeth Cause Bad Grades?
At first, it may seem somewhat farfetched that your child's oral health can impact how well they do in school. However, there are plenty of ways unhealthy teeth or gums can impact your child's life in school, such as:
Trouble focusing: If your child is distracted by sensitive or painful teeth all day, or feeling self-conscious about how their smile looks, they may have difficulties paying attention in class.
Missed school: Untreated oral health issues means that they could experience a dental emergency at any time. You may need to take them out of class to go to an emergency dental appointment, giving them less time to learn or study.
Shyness in class: If your child's smile doesn't look or feel its best, it's only natural for them to feel shy around their classmates. They may be less likely to answer questions in class, participate in group activities, or make new friends.
Hit the Books: Here's What the Research Shows
Recently, researchers have set about scientifically and numerically proving that oral health influences academic performance. Findings throughout numerous studies overwhelmingly show that "…dental problems were significantly associated with reductions in school performance and psychosocial well-being." Many researchers report that at least 51 million school hours, if not more, are lost every year due solely to dental problems.
Back-To-School Tips for a Healthy Smile
Fortunately, there are plenty of ways you can help your child maintain great oral health this school year, including:
Scheduling their biannual dental checkup before school starts
Ensuring they are brushing for two minutes twice a day
Encouraging them to floss daily
Limiting their sugar intake and packing healthy school lunches
Teaching them about the importance of a healthy smile
A smile that looks and feels its best will help your child success in school! Make sure they're prepared for the upcoming academic year by keeping these tips in mind.
About the Practice
Dr. Kevin Shively is dedicated to serving smiles of all ages in Lubbock and the surrounding communities, including children! He and his team offer effective and specialized care in a fun environment designed with your child's safety and comfort in mind. Whether your little one needs their first dental checkup, treatment for a bad toothache, or anything in between, you can count on Dr. Shively. To learn more, he can be contacted online or at (806) 698-8660.
Comments Off

on Set Your Child Up for Academic Success with a Healthy Smile!
No Comments
No comments yet.
RSS feed for comments on this post.
Sorry, the comment form is closed at this time.