September 3, 2022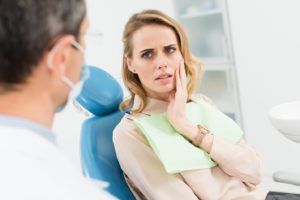 Life can come at you pretty fast—and sometimes, dental emergencies can occur when you least expect them to! But when this happens, there's no reason to panic; a little quick thinking and a trip to see your emergency dentist in Lubbock will ensure that your smile is in no long-term danger. But you might not know what to expect upon showing up for your visit, which can sometimes make things a little stressful. Here are four things you can anticipate when you arrive for your appointment to make sure things go smoothly.
1. Same-Day Treatment
You should always contact your emergency dentist promptly after sustaining any type of dental injury; however, they're the one who will determine whether you need to be seen immediately. It's also worth noting that emergency dentists maintain time built into their schedules to address dental emergencies. Some types of dental emergencies, like displaced teeth, need to be treated as soon as possible. But milder injuries such as chipped or cracked teeth can often wait a day or two. If you're experiencing any pain, your dentist will advise you on how to manage it until your appointment.
2. Emergency Dental Examination
One of the main differences between an emergency dental visit and a regular checkup is how your dentist examines your mouth and assesses the situation. During a routine visit, your dentist inspects your whole mouth and all of its internal structures; however, if you're there for an emergency, your dentist will only focus on the problem area. This allows them to quickly determine the root of the issue and proceed with treatment. Sometimes X-rays are taken during this examination to detect possible inflammation or infection that's invisible to the naked eye.
3. Possibility of Sedation or Anesthetics
There's a possibility that your dentist might have to use anesthetics to assist with your treatment, or they might have to sedate you—but this is nothing that you should worry about! Your dentist will prioritize your comfort as they treat you, and sedation is one way to easily ensure that you don't feel stressed, anxious, or agitated during your visit. Not to mention, some types of dental emergencies require sedation or anesthesia regardless of the level of pain you're experiencing.
4. Pain Relief & A Restored Smile
Dental emergencies can simultaneously affect the look, feel, and functionality of your smile—while also sometimes being painful! But as soon as you're seated in your dentist's chair, they'll begin doing everything they can to alleviate your pain and restore your smile. Whether it's a toothache or hypersensitivity, a fractured or displaced tooth, or any other sort of emergency, your dentist is the best person for the job.
The world can come to a screeching halt when you experience a dental emergency, but there's no reason to remain stalled out! Contacting your emergency dentist quickly and knowing what to expect when you show up will guarantee that your smile receives the fast-tracked care it needs.
About the Author
Dr. Kevin Shively received his dental doctorate from the University of Louisville School of Dentistry and has proudly served patients and families in Lubbock, TX for several years. His practice is pleased to offer a wide range of services including emergency dentistry. If you or a loved one is experiencing a dental emergency, don't hesitate to call for assistance: (806) 698-8660.
Comments Off

on 4 Things to Expect When Visiting an Emergency Dentist
No Comments
No comments yet.
RSS feed for comments on this post.
Sorry, the comment form is closed at this time.