February 24, 2023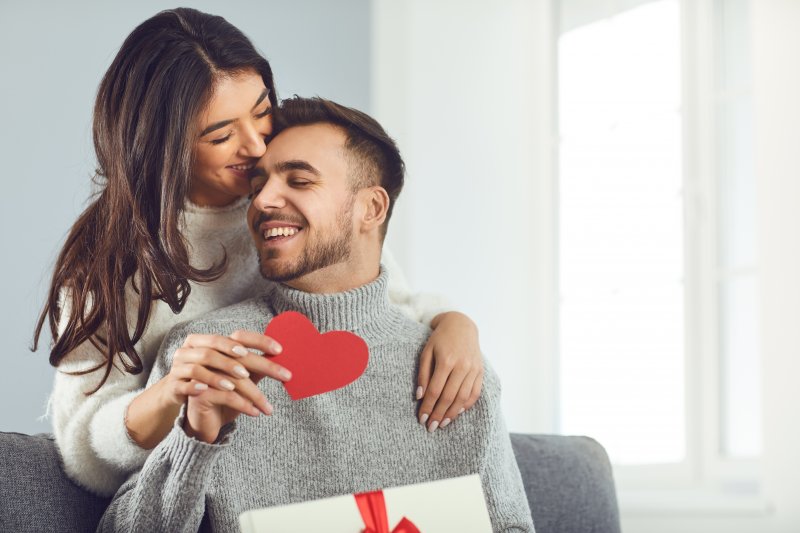 Valentine's Day is almost here, and it may be a good idea to get your partner a gift that will show them you care about not only them, but their health. The typical assorted chocolates and wine can be pretty rough on the teeth, which means what you could really be giving your partner is a future filled with dental bills!
If you want to give your spouse a gift that won't break their heart or their teeth, here are some ideas for dentist-approved Valentine's Day gifts.
Dark Chocolate
This guide started with the suggestion that chocolates weren't the best pick, so this entry may come as a bit of a surprise to you. However, solid dark chocolate in itself actually isn't that bad for your teeth. It's fairly low in sugar content and melty enough that it's not likely to linger in your partner's mouth.
Lots of people look forward to Valentine's chocolates all year round, and there's no reason to deprive them; just go for something with a little bit less sugar.
Spa Day
Most people can get through a box of chocolate pretty quickly, and feel pretty terrible afterward. On the other hand, a spa visit can last all day, and afterward, your partner will feel refreshed and rejuvenated. Chocolates are often consumed on the couch or in bed, while a spa day is an experience that can be a nice change of pace.
And if you go for a spa day, it can be something you do together with your partner, as opposed to eating alone. That can be a sneaky way to get yourself something nice, too!
Something Personal
If your partner is a little more sentimental, it might be a good idea to get them something personal, maybe having to do with your relationship. For example, you might get them something that reminds them of the first Valentine's Day you spent together. Even something a little tacky can be a sweet gesture, with the right context.
As you can see, there's no need to lean on a box of chocolate to give your partner something they'd love. If anything, your originality will make them appreciate the gift all the more.
About the Author
Dr. Kevin Shively became a dentist for one reason: to help people! He revels in getting to form personal relationships with his patients, and in helping them to take charge of their oral health. Dr. Shively received his doctorate from the University of Louisville School of Dentistry, and he has completed over 600 hours of continuing education since graduation.
If you have any questions about getting your partner a gift on Valentine's Day, he can be reached at his website or by phone at (806) 698-8660.
Comments Off

on 3 Dentist-approved Valentine's Day Gifts
No Comments
No comments yet.
RSS feed for comments on this post.
Sorry, the comment form is closed at this time.