May 23, 2023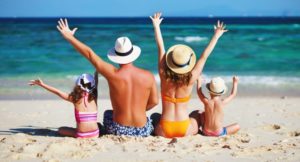 You've been counting down the days until you pack up and go on summer vacation. Needless to say you've been looking forward to it for a long time, and you want everything to be perfect. In addition to making all the travel arrangements, there are a few other things you need to take care of before you leave—like having someone watch your dog or feed your fish and putting in your time-off paperwork.
One must-do task is making sure you're up-to-date with your dental checkups and cleanings. What are the benefits of having this kind of visit before going on vacation? Read on to find out!
Less Chance of a Dental Emergency
Just imagine yourself taking in the sights, lying on a beach, or having an adventure—when suddenly your tooth starts to hurt badly. Unfortunately, toothaches don't care whether you're on vacation or not and can interfere with your well-laid plans at any time. However, did you know that most dental emergencies are preventable?
When checking your teeth and gums, your dentist looks for signs of decay in a visual exam and through digital X-rays. If they identify anything wrong, they can treat it right away, even if it doesn't currently give you pain. By addressing the problem early on, you won't have to deal with a more damaging and painful dental emergency later on.
Cleaner, Whiter Teeth
In addition to being examined for oral infections, you will also undergo a professional teeth cleaning during this routine appointment. What's the difference between what you do at home and what your hygienist does? They have access to more powerful polishing instruments and can remove plaque buildup between your teeth.
As a result, you leave the visit with a sparkling, more confident smile than when you came in. Having teeth you're proud to show off is a great way to start your vacation, when you can take plenty of photos to remember your experience.
Smarter, Healthier Choices
Vacations are typically a time when people take a break from their usual routine; however, there are certain things you need to continue doing if you want your smile to stay healthy. During your appointment, you can ask your dentist how to best care for your teeth and gums while you're away from home, and they may provide tips such as using a straw for certain drinks, having dessert right after dinner when you naturally salivate, and more.
If you want to enjoy your time away from the daily grind, you need to meet with your dentist. They can help you avoid disaster as well as prepare you for fabulous photos and many amazing memories. Bon voyage!
About the Author
During his career, Dr. Kevin Shively has completed more than 600 hours of continuing education. In fact, after he earned his dental degree, he finished a one-year externship, where he specialized in advanced services like oral surgery, gum procedures, root canals and more. However, he also enjoys helping patients avoid major problems through preventive care as well. To schedule an appointment with Dr. Shively, please contact his practice online or call the Lubbock office at 806-698-8660.
Comments Off

on Visit the Dentist Before Your Vacation! Bon Voyage!
No Comments
No comments yet.
RSS feed for comments on this post.
Sorry, the comment form is closed at this time.