June 9, 2023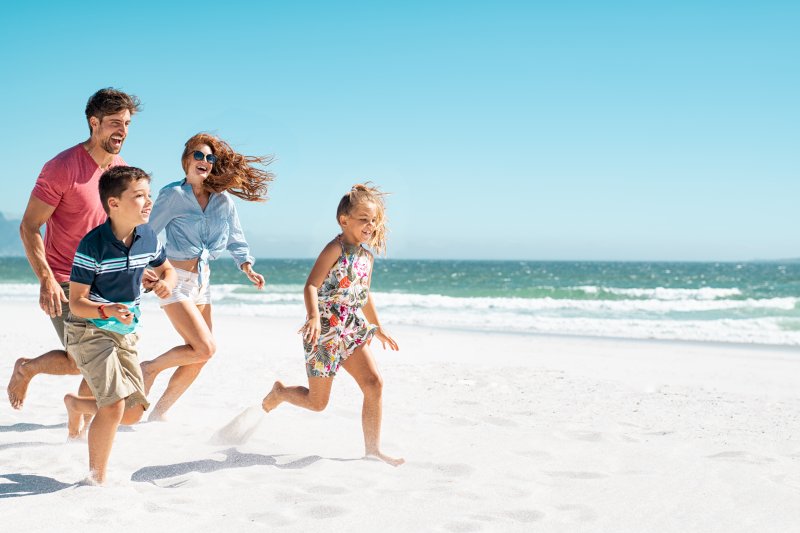 Summer is finally here, and now that kids are out of school families are all going on vacation. It can almost feel like summertime is an escape from the rest of your life, but the truth is that you're as susceptible as ever to all kinds of oral health issues.
That means that you need to do a couple of things to maintain your oral health during this summer vacation. Here are a few things you'll probably need to keep in mind.
Make Sure You're Prepared
When you go on any kind of trip, it can be a serious disruption to your schedule. The best thing to do is to prepare beforehand so that everything is as easy as possible.
You can do that for your oral health by getting a travel dental hygiene kit. This contains travel-size versions of everything you need to maintain your oral health—toothbrushes, floss, mouthwash, etc. You can build your own, or pick one up from any supermarket.
Watch What You Eat
One of the best things about traveling is the food, but you still need to take care not to eat anything disastrous while on vacation. It's fine to indulge in some foods you may not ordinarily eat, so long as you brush and floss properly afterward, but there are some things it's never a good idea to put in your mouth.
Animal bones, hard candy, or other things that could potentially chip your teeth are never a good idea to eat, even on vacation.
See Your Dentist Before You Leave
If you want to enjoy your vacation to the fullest, it's a good idea to make sure that you aren't dealing with any oral health problems. Cavities and gum disease can make your vacation much less fun, and dramatically increase your chances of dealing with a dental emergency.
By seeing your dentist before you go, you can make the most of your vacation and keep your teeth in great condition!
About the Author
Dr. Kevin Shively loves his work for all kinds of reasons, but for him, the best part of being a dentist is being able to help people. The look on his patients' faces when they see their new smiles, or when they finally feel relief from the pain they've been struggling with, is priceless to him. Dr. Shively received his dental degree from the University of Louisville School of Dentistry, and since then has taken over 600 hours of continuing education, including from the prestigious Dawson Academy.
If you want to know how to protect your oral health this summer vacation, we can be reached at our website or by phone at (806) 698-8660.
Comments Off

on 3 Ways to Protect Your Teeth on Summer Vacation
No Comments
No comments yet.
RSS feed for comments on this post.
Sorry, the comment form is closed at this time.