July 10, 2023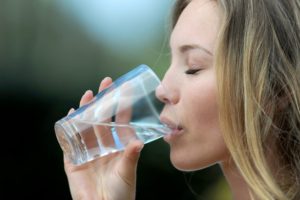 Water—you need it to survive. It facilitates many functions, and it makes up roughly 60 percent of your body. Unfortunately, according to the National Institute of Health, about 75 percent of Americans are chronically dehydrated. During the hot summer months, more than any other time of year, staying hydrated is especially important.
Some signs of dehydration are pretty clear, while others are more subtle. So how can you tell if you need more water? Look out for these indications!
Dry Mouth
If you notice that your tongue becomes dry or you find it difficult to swallow, you may be getting dehydrated. It makes sense that when your body runs out of water, your mouth will not have as much moisture as it usually does. A dry mouth is not just a sign of danger for your entire body, but it also creates an environment where bacteria can thrive, increasing the risk of cavities, gum disease, and other oral problems.
Smelly Breath
Along with a dry mouth, stinky breath also indicates dehydration. Bad, decay-causing bacteria produce a foul odor, which means your breath will be unpleasant to taste and smell. When your mouth is properly hydrated, it can rinse these smelly bacteria away more easily.
Dark Urine
Generally, when you have been hydrating, your urine should be a light-yellow shade or mostly clear. If you see darker yellow when you urinate, it is more concentrated than normal and you should have more water.
Fatigue
After a tough workout or doing yardwork, you may naturally sweat a lot and feel fatigued for a short period of time. However, you will likely continue to feel tired if you don't replenish your lost fluids. Try to take at least some sips of water while you're active and after you're finished to prevent getting overheated, dangerously dehydrated, and fatigued.
In the hottest months of the year, it can be easy to ignore some of these indications, but not getting enough water can seriously impair your body's functions. Don't overlook the subtle signs of dehydration, and make sure you get plenty of fluids so you can enjoy this summer!
About the Author
Dr. Kevin Shively practices in Lubbock, TX, and he has undergone more than 600 hours of advanced training after completing a one-year externship. Although he is proficient in complex oral surgical procedures, he encourages patients to prevent dental issues whenever possible, such as through proper hydration. If you would like to schedule an appointment with Dr. Shively, you can call his office at 806-698-8660 or go online here.
Comments Off

on 4 Subtle Signs You Need More Water
No Comments
No comments yet.
RSS feed for comments on this post.
Sorry, the comment form is closed at this time.